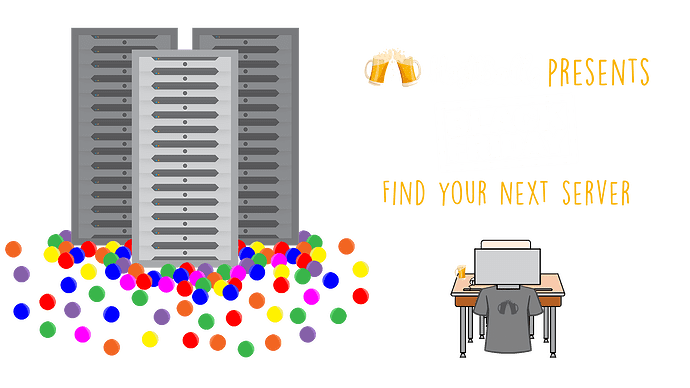 ---

Alimemaj
HostBalls exclusive offers from our dear friend @armandorg!
20GB SSD
200GB Bandwidth
20 Custom Emails
U.K Location
Unmetered Everything Else
$15 / 2 years
Limited to 15 purchases only!
5 Modern & Custom Designed Pages [HTML/static]
Custom Logo
Full White-label (no 'designed by' tags)
WHMCS Integration
3 Revisions (requested changes after initial completion)
400$
Expires 27 November.


---
We have new servers available with /24 starting from just $240/mo. Some of the configurations available are as follows:
2xL5420 (8 Cores)
16GB RAM
2x1TB HDD
/24 IPv4
10TB Bandwidth at 1gbps port
Cost: $240/mo.
2xE5520 (16 cores)
24GB RAM
2TB HDD
/24 IPv4
10TB Bandwidth at 1gbps port
Cost: $260/mo.
2xE5620 (16 cores)
48GB RAM
P212 RAID 2x2TB HDD
10TB Bandwidth at 1gbps port
Cost: $275/mo.
Supermicro 4-Bay 2xE5-2630v2 (24 Cores)
32GB RAM
120GB SSD + 2x3TB HDD
/24 IPv4
10TB Bandwidth at 1gbps port
Cost: $290/mo.
To grab the deals contact sales department at https://www.bigboxhost.com or email us at [email protected]
---

CubeData
Happy Black Friday & Cyber Monday from @CubeData! And what better time than BF/CM to get awesome deals?
From November 23rd to November 27th (the day after Cyber Monday), we will be doing a 50% OFF promotion on all of our owned licenses using this coupon code: Q3LzvuoO
Check out the official website for further details.
If you cannot pass our automated anti-fraud-system, you will not be able to take part in the promotion. This is due to the nature of the sale. Thanks!
Offer valid from 11/23/18 to 11/26/18 until first 1,000 uses.
---

Dedispec
We've got a couple fantastic deals submitted by @Dedispec, a dual E5 beast and a HostBalls exclusive storage server!
Dual Intel Xeon E5-2670v2
CPU: 2.5Ghz / 3.3Ghz Turbo - 2 Processors (20 Cores / 40 Threads)
Memory: 64GB DDR3 RAM
Storage: 1x 480GB SSD or 4TB HDD
Bandwidth: 1Gbit Port: 100TB/Month
IPs: 5 Usable IPv4 (IPv6 available on request)
Location: Missouri (USA)
BONUS OFFER: Get a free upgrade to 96GB RAM or a free secondary 480GB SSD or 4TB HDD by requesting one or the other in your order notes. Simply say "96GB RAM", "480GB SSD" or "4TB HDD" in your order notes and it'll be manually adjusted. You may only choose one free upgrade.
Monthly: $69/Month - Coupon: HostBallsE5
HostBalls Exclusive Offer - Storage Server Deal
CPU: 2.26Ghz - 2 Processors (8 Cores / 16 Threads)
Memory: 8GB DDR3 RAM
Storage: 4x 2TB SATA HDD
Bandwidth: 1Gbit Port: 10TB/Month
IPs: 5 Usable IPv4 (IPv6 available on request)
Location: West Virginia (USA)
BONUS OFFER: Double the storage when you pay annually. Pay annually and you'll receive 4 additional 2TB drives, making it a total of 8x 2TB HDD.
Monthly: $49/Month
Offers valid through Cyber Monday (11/26) or while supplies last. Cannot be used to replace an existing service and cannot be used to price match existing servers. New orders only. Will not be honored after the promotion ends.
---
@Cam has shared some great NAT VPS deals, check them out below!
Purchase any TWO NAT VPS servers and get another free!
Purchase any TWO WebHosting plans and get ONE of equal or lesser value free!
50% Off Storage servers 250GB and over using code BF-STOR-50.
For more information and order links, visit the page below:
http://cdn.gullo.me/cam/black-friday-gh/
Promotion ends at midnight (EST) on Friday, Nov 23
---

HetrixTools
Need some great uptime, server, or blacklist monitoring? @Andrei's got you covered!
Uptime Monitoring + Server Monitoring:
70% OFF Recurring on the Professional package ( $9.95/mo $2.98/mo). [ Promo Code: BFUptimePro2018 ] valid for the first 20 orders only.
40% OFF Recurring on the Business package ( $19.95/mo $11.97/mo). [ Promo Code: BFUptimeBus2018 ] valid for the first 10 orders only.
To compare packages and features, please visit our pricing page:
Uptime Monitor Pricing - HetrixTools
Blacklist Monitoring:
Notes:
You can get an extra 16% OFF Recurring on any package by paying yearly.
Coupons will become usable starting with 23 November at around noon UTC time, they cannot be used until then.
Coupons will be valid until the maximum number of orders is reached, or until 27 November, whichever comes first.
These offers do not stack with any of our previous offers.
The same user can get both the Blacklist and the Uptime offers, if they choose to do so.


---

Hetzner
Hetzner has been running a special all week on their AX and EX lineups! Contact @Hetzner_OL with any questions you may have.
Now until Nov 26, take advantage of NO SETUP FEES on AX-line servers and EX-line servers!
Exclusive for this friday, no setup fees on the managed server lineup!


---

Hivelocity
As you all probably know, @HIVELOCITY has some great specials going all week on their unmanaged and managed dedicated servers!
View a live datacenter stream of the Hivelocity crew giving out prizes on purchased servers! Order any server with the SALE tag next to it and you'll get to play PLINKO to get a chance to win various amounts of account credit (up to $250!).
Promotion ends Friday 23rd November


---

Ho-ost
@MichaelCee is back again with his insanely cheap shared hosting deal, including a FREE .COM domain if you're within the first ten people to order one of the bundles below!
After one year, you can renew your domain at £6.99/year, transfer it to your preferred registrar, or let it expire with no commitment. We offer free WHOIS protection and DNS management (please open a support ticket after completing your order to request your .com domain)
Shared-1 Black Friday Bundle
1 x UK cPanel Account
1 x US cPanel Account
1 x EU cPanel Accouns
5 Add-on Domains Each
1GB SSD Disk Storage
100GB Monthly Transfer
£3.75/Year FOR 3 HOSTING PLANS - 75% OFF DISCOUNT CODE: BF2018
ORDER THE BUNDLE (1 Luxembourg, EU, 1 Manchester, UK, 1 Charlotte, US)
When ordering you'll be asked for your account hostname in this order: UK > US > EU
Shared-2 Black Friday
5GB SSD Disk Storage
Unlimited Add-on Domains
1000GB Monthly Transfer
Free .COM Reg or Transfer
£3.75/Year FOR 1 HOSTING PLAN - 75% DISCOUNT CODE: BF2018
Order UK | Order US | Order EU
Shared-3 Black Friday
10GB SSD Disk Storage
Unlimited Add-on Domains
Unmetered Monthly Transfer
Free .COM Reg or Transfer
£5.00/Year FOR 1 HOSTING PLAN - 75% DISCOUNT CODE: BF2018
Order UK | Order US | Order EU
---

HostDoc
Our friend @HostDoc has some great Black Friday specials for us as well!
BF discounts include:
VPS Resource Pools
BF Monthly KVM Specials
BF Yearly KVM Specq2ials
FREE Medium KVM VPS (drawings all week long)
FREE NVMe Shared Hosting (with purchase of select products)
Check out all the great offers at the links below:
https://hostdochost.i.ng/
https://mailchi.mp/f27224a01d21/black-friday-exclusives
Promotions will last through Tues. Nov 27th
---

HostEONS
@hostEONS currently has a great Black Friday special going on this week!
30% OFF PROMO on all VPS Servers on annual, bi-annual, and tri-annual billing cyles!
Coupon code: BF30
Check out the full details in their blog post here:
https://blog.hosteons.com/2018/11/18/black-friday-promo-30-off-on-vps/


---

Mr VM
Anyone need a big ol' NAT VPS bundle!? @mikho is running a couple of great Black Friday specials!
Get a 256MB NAT VPS at TEN LOCATIONS for $35/year! That's right, you get TEN servers for just $35 for the entire year!
Offer valid between Nov 23rd and Nov 24th
Or you can pick up a single 2GB NAT VPS in West Virginia for only $10/year!
View the official sales page here.


---

MXroute
It's that time of year again where I push myself to make crazy offers to satisfy your need for email that just does the stupid thing it's supposed to: Arrive at it's intended destination.
Unlimited Email Accounts
Unlimited Domains
300 outbound emails per hour (soft limit)
100GB of Storage
$15/year OR
$25/2years OR
$30/3years
AND back by popular request, a $5 plan!
Unlimited Email Accounts
Unlimited Domains
300 outbound emails per hour (soft limit)
5GB of storage
$5/year OR
$10/2years OR
$15/3years
These packages include:
We provide:
SMTP / POP3 / IMAP
Roundcube, Horde (webmail only), squirrelmail
cPanel interface (Why cPanel?)
iOS Push
Server side filters
In-house outbound filtering / rotating delivery system
IP reputation issues rarely a problem (and usually mitigated transparently in the case that they do appear, emails are then delivered from another IP)
MailCheap fallback (if delivery fails from our system, final delivery attempt goes through MailCheap)
300 outbound emails per hour
So what is MXroute? MXroute is an email hosting provider with the stretch goal of taking on the status quo in the email industry and turning it upside down. No per user cost, pay for the storage you use, and a commitment to high quality inbox delivery (sometimes variables stack in a way that prevents us from providing it, but we still continually work toward the service not being one of those variables).
---
With

Host Balls