I got that email too, they also are migrating at least one other in France for CPU performance reasons.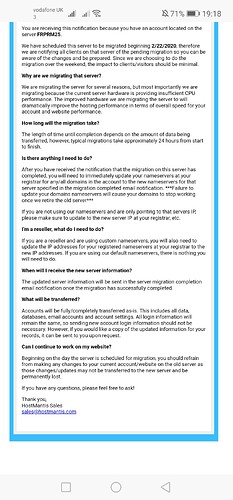 Hetzner does attract a lot of people that "abuse" their bandwidth
I had a server with Hetzner before they removed bandwidth limit, the network performance was noticeably better before.
if you see issues with hetzner network performance especially around prime time, that might relate to the topic of double paid carriers aka DTAG … most clients are not aware of this, and I have seen some cases where the measly five bucks helped a lot
however, I just noticed that the the wiki article says 'obsolete from april 1st' - so maybe something changed and they finally negotiated something else? @Hetzner_OL any more insights on the DPC / DTAG topic?
not saying that this neccessarily is the reason for the hostmantis move though…
I can't complain about Hetzner performance

Over time OVH has narrowed the funnel into their network while Hetzner has widened theirs. Though I have to say, still quite happy at Hetzner.
In my case Hetzner vastly outperforms OVH yep it's a case of "It works on my machine™"
Besides the OVH vs Hetzner showdown, there are a couple of things that, as a prospective customer, leave me a little stumped.
I'd be wary, in general, of a provider who's trashing, directly or indirectly, a previous business partner, unless sorely needed we've seen some cases here and there…
"It doesn't fit any more our needs" → ok;
"It doesn't fit any more our network and performance requirements" → also ok;
"We need to upgrade because we're experiencing insufficient CPU performance" → ok;
"Their network quality and performance has seriously degraded" → if I'm your customer, to me your performance has degraded and it sounds like you're making excuses to justify an utterly unexpected change
This could have been played better with something less bitter like "we needed to find a new awesome partner in order to maintain the performance we're committed to deliver and therefore we're performing this migration, we apologize for the inconvenience"
There's also that "we're moving everything within the next 24 hours and you'll have a whole weekend to update and adjust all your stuff" that baffles me. If I were their customer I'd actually consider cancelling as soon as possible
Hetzner, Mercedes, VW, Audi, BMW, Porsche
OVH, Renault, Citroën, Peugeot.
Good Luck !
Hm, probably dumb question, but is narrowing the funnel good and widening it bad?
What exactly does widening/narrowing mean? Does it mean extending/decreasing number of peering/routing partners? Or bandwidth managment?
(Just curious, this is not a level/area I know much about.)
I assume that its not related to bandwidth or peering, but "type" of customers and behaviors that are allowed, especially considering the price point.
Narrowing the customer funnel will reduce abusive behavior on the network, widening it will increase. It's basically how wide you open the door. "Everyone come in right now" means rampant abuse and "Let's be a bit more selective" means abuse reduction.
fastcpanelserver? really?



Well…

Hi Falzo, we have entered an agrement with DTAG to set up a connection that will go live on April 1st. No it´s not an April Fool´s joke


I am not sure if that played a role in their decision. --Helena, Marketing
thanks, good to hear (I guess)…
so, does this (positively) affect all servers/customers in the same way?
or is that reserved for the clients paying for DPC?
is the DPC fee removed automatically for those that pay it already?
Customers who had been paying for the Double Paid Traffic Option don't have to anymore. We sent out an email about to these customers a few weeks ago. I believe that this fee was automatically removed for affected customers. The new connection with DTAG will be for all customers/products. --Katie
awesome, thanks for clarifying!