CloudFlare is down!
Getting 502 on everything including their own site, from multiple PoPs. Very lovely

Am I the only one who encounter 502 Bad Gateway for Cloudflare?
Almost all websites I am visiting shows this… that's the problem when everyone used Cloudflare
Multiple sites down right now because of Cloudflare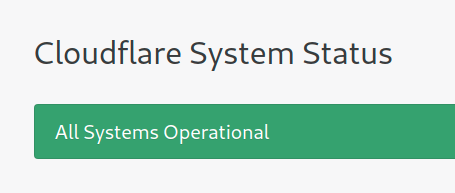 The biggest lies of the internet are always status pages
Praise @jarland for not putting HB behind CloudFlare!

He's never been that drunk. Has he?
1.1.1.1. DNS still works fine (and fast!)
I mean… this exactly proves the point I had yesterday that centralizing everything to one company is bad. Now imagine if 1.1.1.1 goes down as well.
ITYM 8.8.8.8. That would have some impact.
Is there any other companies that can compete with Cloudflare?
They're really starting to get more and more often these CF downtimes…
There are lots of companies that provide very similar or even better offerings than CloudFlare.
The problem is
a) CloudFlare gets a lot of users through their FREE tier
b) You can't beat CloudFlare's PR
There status page says that the UK is ok… it isn't…

I mean, what if Google provides something similar - for free?
DNS : DNSimple
CDN : KeyCDN / Stackpath
When both of your monitoring solutions (HetrixTools + UptimeRobot) use CloudFlare… RIP.
But… https://ns1.com/ is down because it is hosted with Cloudflare, any free CDN?
I just came here to post about this, I guess you guys had it covered haha.