Hey friends! You know the drill. Show off your workstations!
I've whacked it in another thread but I'll plonk it here too! My baby <3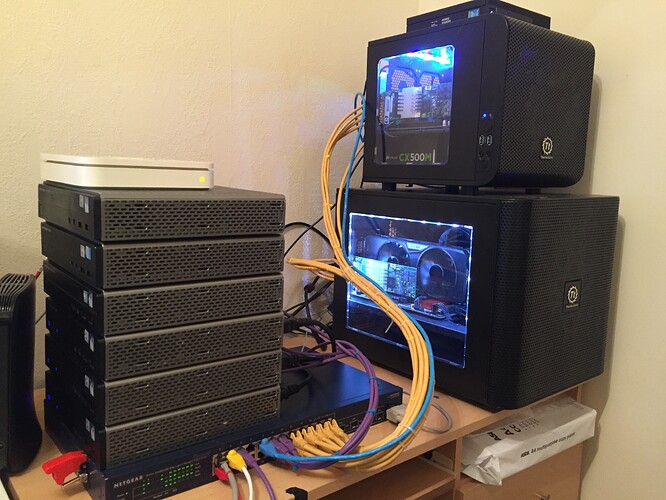 Specs:
Dell Optiplex 3020 Micro (i5 4750T w/ 16GB RAM)
Thermaltake Core v1 mITX build (i3 6100 w/ 16GB RAM)
Thermaltake Core v21 mATX build (Skylake ES 4c/8t w/ 32GB RAM and GTX 960 KVM passthrough)
Optiplex Tower of Crapnessoscity (Intel Atom 330 w/ 2GB RAM)
Atom Optiplexes iSCSI boot off the Thermaltake Core v21 over 4 Gbps LAGG. Use the same machine for a desktop VM. Smaller Thermaltake case and the Optiplex Micro sitting on top of it are primarily used for LXC containers for University work/projects/random game servers/plex etc.
All second hand stuff put together on a shoestring budget. All in all comes to less than £800, not bad!
Edit: Thanks @Jarland for putting this Discourse together. IMO long overdue. Thanks for being the one to push ahead and get it done - appreciated! <3
Kind of a disappointing followup. Wasn't even worth finding the lube.
Mine: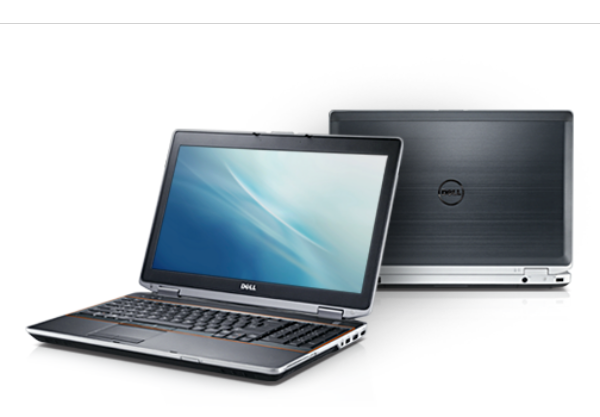 Main Desktop
Ryzen 7 1700 (OC 3.8GHz)
ASRock X370 TAICHI
EVGA 1080 TI
Corsair Vengeance LPX 16GB (2x8GB) DDR4 DRAM 3000MHz C15 Desktop Memory Kit
Samsung 950 Pro 256GB
2x 256GB SSD in RAID 0 ( I really like RAID 0

)
Thermaltake P5
EK Watercooling with a Alphacool pump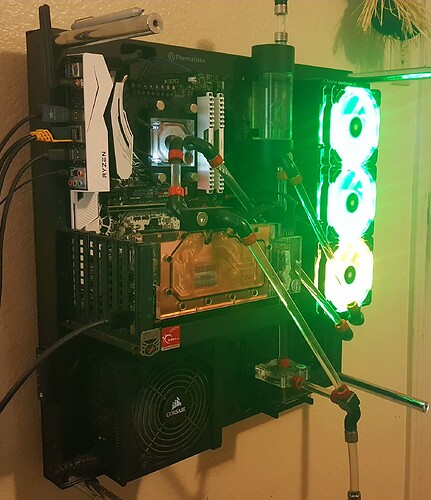 Plex Server
AMD 8320 (OC 4.1? or 4.2GHz)
ASUS M4N78 Pro
PNY 970
32GB RAM
256 GB SSD
2x 4 TB + 1x 2TB + 1x 6TB (Adding an 8TB in the next few days. Likely replace the 2 TB. Maybe I have another SATA cable laying around heh…)
It's in a old school NZXT Phantom case. Not like the ones they have now, I can't even find the older one anymore.
Because I already posted a picture in the other thread, my specs:
Desktop
CPU: AMD FX-9590 (8 cores @ 4.7 GHz)
CPU Cooler Corsair H100I Liquid Cooler
RAM: 12 GB DDR3 @ 1070 MHz
Motherboard: ASUS M5A99FX PRO R2.0
Graphics: NVIDIA GTX 970
Storage: SanDisk 240 GB SSD
Webcam: Logitech C920 1080p
Microphone: Audio Technica AT2020 Condenser w/ Blue Icicle XLR Converter
Speakers: Micca PB42X
I recently upgraded my CPU to the FX-9590, which was a terrible terrible choice that I should've done way more research on. Turns out it's compatible with almost nothing, and more expensive (with worse performance) than a Ryzen. I liked it because I thought it was compatible with my motherboard, but after buying it I quickly learned I had to get 1) water cooler, 2) new mobo, 3) new PSU.
The CPU is okay, but I feel like my RAM is so bad (1070 MHz???) it's bottlenecking everything. Maybe once RAM prices stop being disgusting I can get an upgrade on those. I'm not a huge gamer, so the GTX 970 is great for what I do - and it wasn't bad getting that $20 or so settlement check because it's a giant meme card.
I also had two 128 GB SSDs in a RAID0, but they were so ancient I just gave up one day and rushed out to Best Buy to get an SSD from this century.
I always love these threads. I have nothing decent to contribute image wise though. I am using one of those Lenovo all-in-one machines. The cheaper end of the spectrum, though… 4GB of RAM and an Intel Pentium. I'm going to get a lappy when we move.
I would have a new keyboard and mouse by now but the landlord has shut down the building downstairs so I can't get any mail. Sadface
What's that toggle switch on the side of your Netgear switch?
Given I work next to it and have a realllllly short attention span it's nice to turn the fans off once in a while

I had planned to whack a PIC in there and do something so the fans ramp with temperature, but time is not on my side at the moment

16F877+LM35. One of the easiest embedded projects possible. Weekend is coming up!
Arp, I have a (somewhat ancient) 16F648A sitting on my shelf waiting to be whacked in there. Maybe I should… -_-
Or, you could always Node it and throw a mega328 at it.

Not happening

Would rather save the 328s for projects where PIC ASM would cause me migraines.
Just checked… conveniently +5 V out and GND marked on the board in there with two empty solder pads. That makes my life easier :')
Edit: *bigger migraines
You're not going to directly drive the fan from that, are you? You're def. going to want some smoothing caps if you are.
/obligatory_derail
Nah, the fan header's ground seams to have no offset so will use a transistor and the existing fan header I think
bc547c I guess? I'm not that familiar with yours on the other side of the pond. Still happy with my NPN 2222s with most homebrew, but can't remember the last time I had a recent NG open- assuming it has a feedback on it, or is it a dead simple two pole?
I have a bunch of BC182L that I picked up from eBay for a quid a while back. And unfortunately dead simple two pole

Still, shouldn't be too bad.
UGH, NOW YOU HAVE ME PROCRASTINATING THIS WEEKEND. Why u do this to me?
Water finds it's own level. Chiding others into doing things I can't be arsed to, welp…