So say I have two servers - master and slave - and a Virtual IP. During normal operation only one server responds to ARP requests. When master goes down slave starts responding to ARP requests. Basically simplified keepalived.
The problem I see with this approach is that on large LAN networks devices can have various ARP caches. The situation: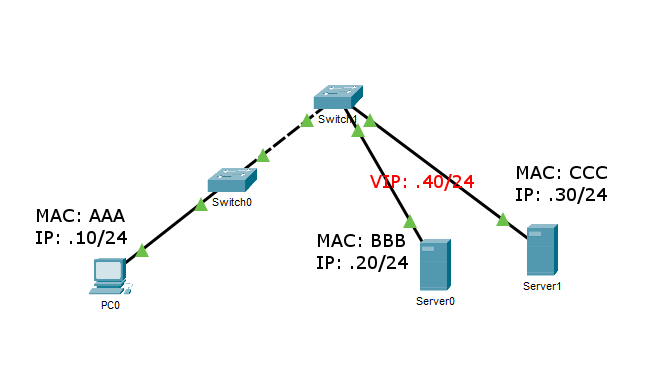 Let's say Server0 is our master. So on PC0 we have the following ARP Table: x.x.x.40 → BBB.
Then Server0 dies and Server1 starts responding to ARP requests. The problem is that since PC0 is on the same LAN it will still try reaching IP .40 by MAC BBB and the requests will timeout as Server0 is down. Will PC0 send another ARP request for .40 even though it still has BBB cached?
Unforutnetely Cisco's Packet Tracer can't handle mid-simulation changes

Topic title?

Guess you can suggest better topic name so we can reach Google