So I stumbled on this custom blade server box and it really caught my eye. Seems like a cost effective way to house a decent amount of consumer-grade hardware with relatively low power draw.
Some pics: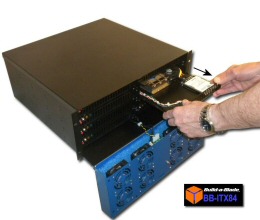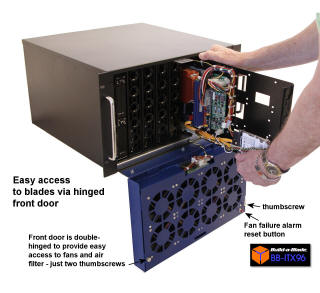 They have a few different configurations to choose from:
4U w/ 8 Thin-ITX blades
6U w/ 9 Mini-ITX blades
8U w/ 9 MicroATX blades
Here's a blade: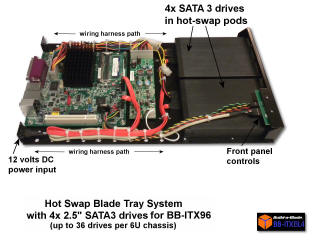 Motherboard just mounts to the blade as normal. Each hot swap blade can have up to 4 2.5" drives and the fixed blades can have up to 6 2.5" drives.
I've been playing around with the idea of starting up a small game server host as a side gig. Since the best game server hardware at the moment (in terms of raw power) are high-clocked i7's, this maybe seems like a good fit. The specs say it can handle CPU power draws of up to 125W, where the i7-7700k for example has a TDP of 91W, so definitely in the clear there. Since the cost is pretty low, if I ever went through with the idea, I'd have a spare couple blades ready and primed to swap in case a blade fails.
Not planning on making a move on this anytime soon, but wanted to gather some opinions on the chasis itself. I realize it's not enterprise/server-grade hardware thus won't have the same survivability/reliability as a Dell or HP blade system, but for the cost savings might be worth the risk. What do you guys think? Would a Colo provider have any issues with racking this? Am I bonkers for even considering this?