Hello again!
I would like to introduce SkylonHost.com. We are a European based KVM VPS (cloud) provider with knowledgeable, European based support and unique features.
What makes us unique?
Hourly billing
High bandwidth limits, guaranteed port speed
Intuitive, fast, in-house control panel
Located in Prague, Czech Republic (Central Europe) and powered by our own custom, highly optimized network, we offer high throughput and good latency to North American, European and Middle East markets.
Infrastructure colocated in a secure TIER III rated datacenter
We own all our hardware and IP space
Hardware cached, battery backed RAID 10 SSDs
…
Enough of the yapping, I want offers!
| Memory | CPU | SSD | Bandwidth | Price | |
| --- | --- | --- | --- | --- | --- |
| 512MB | 1 core | 10GB SSD | 5000GB @ 500Mbps | 2.99€/month OR 0.005€/h | ORDER |
| 1GB | 2 cores | 15GB SSD | 10000GB @ 500Mbps | 4.99€/month OR 0.008€/h | ORDER |
| 2GB | 2 cores | 20GB SSD | 10000GB @ 500Mbps | 6.99€/month OR 0.011€/h | ORDER |
| 4GB | 4 cores | 50GB SSD | 20000GB @ 500Mbps | 13.99€/month OR 0.022€/h | ORDER |
| 6GB | 4 cores | 75GB SSD | 30000GB @ 500Mbps | 20.99€/month OR 0.033€/h | ORDER |
| 8GB | 4 cores | 100GB SSD | 30000GB @ 500Mbps | 27.99€/month OR 0.044€/h | ORDER |
A special offer to all HostBalls members (with an account older than a week): we will add 15% to any top-up you do, just open a ticket saying you came from here.
Since we're a small company, no VAT is charged and the listed prices are final
Network details
We run our own network under AS202297. Our transit blend consists of GTT, Telia, Cogent and Core Backbone, as well as Peering.cz internet exchange (direct low latency access to Hetzner, Google, CloudFlare, Hurricane Electric, Digital Ocean Frankfurt…)
Looking glass is available here: lg.skylonhost.com
Latencies to common destinations:
CloudFlare 1.1.1.1 - 0.299ms
Google 8.8.8.8 - 0.264ms
speed.hetzner.de - 10.1ms
Vultr London - 17.5ms
ping.online.net - 24.4ms
Vultr New Jersey - 97.6ms

All our servers automatically come with a single routed IPv4 and a routed /64 prefix. Additional bandwidth is available at a low price of 0.5€/TB (we don't charge that unless you grossly exceed the bandwidth limit and agree to it). We can also provide BGP sessions to customers, free of charge.
Custom control panel?
We were tired of using buggy, slow and unusable control panels. That is why we created Cloudie, a software which brings billing and VPS management under a single, easy to use interface.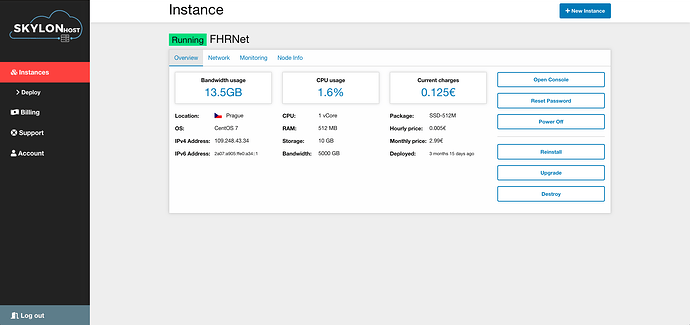 We pride ourselves in providing high performance, good quality services. In an effort to be more transparent, we allow you to view system utilization of the node your VPS is on: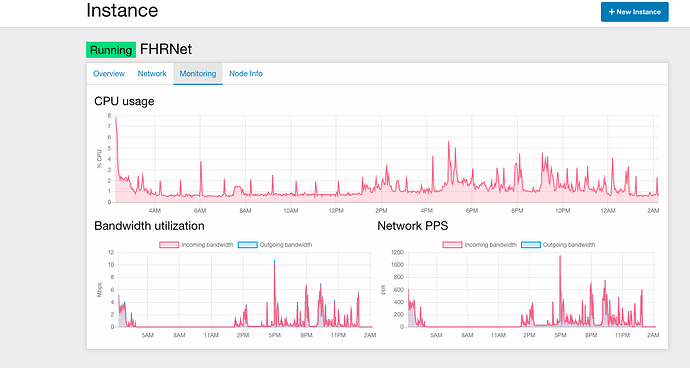 Legal stuff
Terms of Service
Acceptable Use Policy
tl;dr; no malware, don't spam, don't use hacking tools (including port scanners), no public VPNs/TOR exits (private ones are OK), no hosting of pirated content