Mailcheap
Mailcheap.co (Cyberlabs s.r.o. CZ & Cyberlabs Inc. USA) provides enterprise email solutions at affordable prices.
What's new?
Affiliate Program: earn 50% commission
New product line-up, website & docs
New locations in USA (Virginia & Oregon)
Batch migration tool for migrating up to 1000 IMAP mailboxes
2FA support for client area
Products
Features (Reseller Enterprise)
Unlimited Users
Unlimited Domains
Premium Relay for SMTP
Web based admin panel
Advanced anti-spam (AI) & anti-virus protection (4-step filtration) w/ quarantine management
Choice of three webmails: SOGo, Afterlogic & Rainloop (50 MB att.)
WebMail, Contacts (CardDAV) & Calendar (CalDAV) w/ Exchange ActiveSync (SOGo)
Sieve filtering, vacation auto responder, graphical stats
Access to server logs & health metrics
SPF, DKIM, DMARC support
IMAP, SMTP, POP, EAS support
TLS for secure access & transmission
Free setup & migration tools
DDoS protection
RAID protection & offsite data replication
Geo-redundant dual backup MX
Comprehensive documentation
99.9-99.95% uptime
Full support (L1/L3)
Why Mailcheap's Reseller Enterprise plans?
Dedicated servers offer dedicated compute resources (no noisy neighbors or fair use limitations).
No limits, no overages, no hidden charges/fees. Our entire infrastructure is built and maintained in-house and that allows us to provide scalable solutions as standard like Mailcheap's Premium relay for SMTP (ensures high deliverability without any single upper limits, only per user and per domain limits to avoid spamming and maintain QoS), Mailcheap's AI spam filtering based on deep learning neural nets (no limits) and our high performance storage and offsite backup nodes. All of these technologies are seamlessly integrated with your private compute resource/mailserver instance.
100% white-label custom branding includes custom branded admin panel & homepage (brand name, logo, slogan).
Easy to deploy with our online installer in a few minutes.
Plug n' play selling with WHMCS plugin (no administrative overheads).
Fully transparent pricing
Fast & knowledgeable L3 support if its needed: our standard turnaround time to address a non-critical bug is 24-48 hrs.
Featured plans (Reseller Enterprise)
RE-250
Unlimited Domains | Unlimited Users | 1 CPU, 2 GB RAM | 250 GB storage | $30/mo. | Order
RE-500
Unlimited Domains | Unlimited Users | 1 CPU, 2 GB RAM | 500 GB storage | $50/mo. | Order
RE-1000
Unlimited Domains | Unlimited Users | 2 CPU, 8 GB RAM | 1000 GB storage | $100/mo. | Order
RE-2000
Unlimited Domains | Unlimited Users | 2 CPU, 8 GB RAM | 2000 GB storage | $200/mo. | Order
RE-4000
Unlimited Domains | Unlimited Users | 8 CPU, 32 GB RAM | ~4TB storage | $350/mo. | Order
Product brochure (Reseller Enterprise)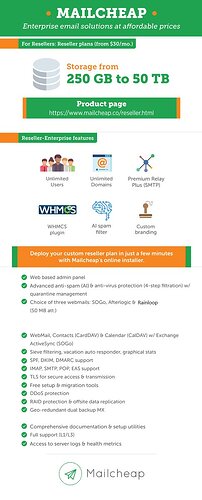 Please check the resources below for more information.
Resources
Website | Features | Infrastructure | Status/Uptime | Docs/FAQ | Sign Up | Affiliate Program