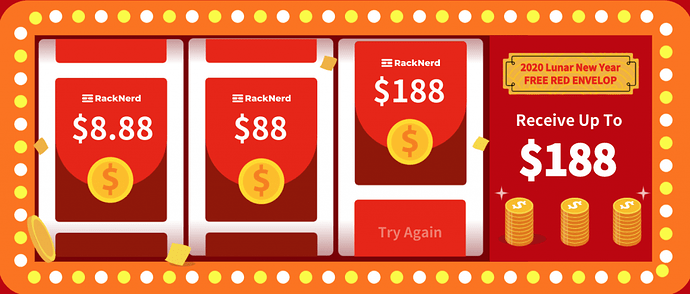 RackNerd LLC is pleased to announce our new Red Envelope event, in celebration of Lunar New Year! Anyone can participate in this creative & fun event!
Please read the below carefully as everyone ( yes, including you ) are automatically eligible to receive free credits!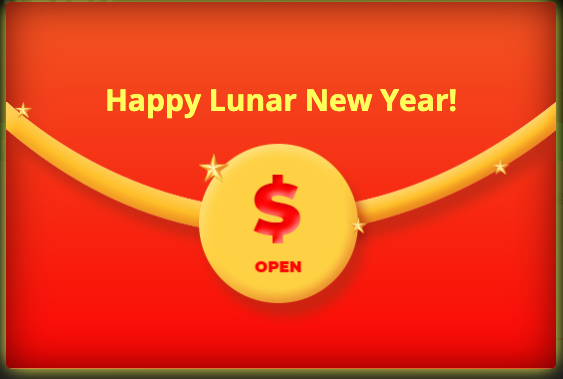 Click on the Open button to reveal what you won! Once you click on the Continue button, the amount you won will automatically reflect in your Available Credit balance.
You will be given the opportunity to receive up to $18 instantly – just by logging into your client area! Once your red envelope is claimed, it will not show up again upon login.
Want to receive another red envelope? Place a new order during 1/16/2020 to 2/16/2020, RackNerd will offer each new order a FREE Red Envelope, the more products you order, the more red envelopes you will receive! ALL products we offer, including special promotional items, are eligible to receive a red envelope!
The red envelope will appear on your invoice page upon checkout, and automatically apply the credit towards your invoice for the new order. The TOTAL amount of the invoice will reflect the reduced amount after the credits were applied. You will then be able to proceed with paying for your order at the reduced rate.
VPS Orders: receive up to $18.88 USD instantly
Dedicated Server Orders: receive up to $188 USD instantly
Click Here to View Lunar New Year Specials!
All red envelope amounts will be automatically credited to your RackNerd account – without a need to open a support ticket to activate.
This is a proprietary system that was developed by RackNerd — it was designed to be fun and creative for everyone to participate and benefit from! Please note that the red envelope credit amounts are randomly generated by the system automatically. We hope that you enjoy!