Hey all,
I've decided to write up a review on a Proxmox-based control panel I've been using for the FreeMach project since the beginning of this year. I am running only two dedicated machines at the moment for the project. Prior to adding ProxCP to the project, I had relied on giving clients direct access to the Proxmox web GUI via a subuser account with limited privileges. ProxCP has eliminated the need to do that, leading to better means for clients to manage and access their VM. I haven't seen any ProxCP reviews yet, so I'll try to make this broad enough to cover all that ProxCP has to offer.
Disclaimer: My ProxCP instance is sponsored by the ProxCP team in support of the FreeMach project. I approached Remi in March of this year to inquire about obtaining a sponsored license for this usage. No "kickbacks" were discussed (inc. this review) aside from me adding a ProxCP link to the FreeMach page – similar to the backlinks for the two sponsored dedicated server providers of the project.
---
Installation & Initial Setup
Installation was a breeze. The documentation provided was easy to follow and was pretty comprehensive so I didn't have a need to reach out for any support. For simplicity sake, I installed the daemon and web-based control panel on the same VPS without any issues in doing so.
One machine was a bit easier to setup ProxCP on because it was a fresh machine (clean Proxmox install) without any VMs. Everything was very straightforward with getting that set up. A different machine was a bit more tricky since it already had active VMs that would somehow need to be migrated to ProxCP. However, once all the moving pieces were mapped out, I came up with a plan and executed it to get them into ProxCP (involved backing up the existing VM's disk image and using it as template to deploy a new VM within ProxCP). Again, I didn't need to reach out to support to achieve this since everything was pretty straightforward.
---
User Interface
Login Page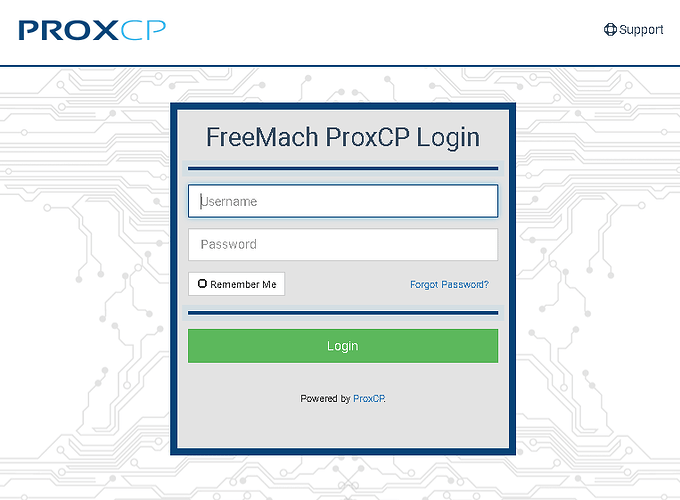 After installation, you'll be presented with the nice login page above. Also included is the option to have your password sent to you if it's forgotten.
Once the user has a VM created for them, it will appear within their list of services in the control panel as shown below -
User VMs Page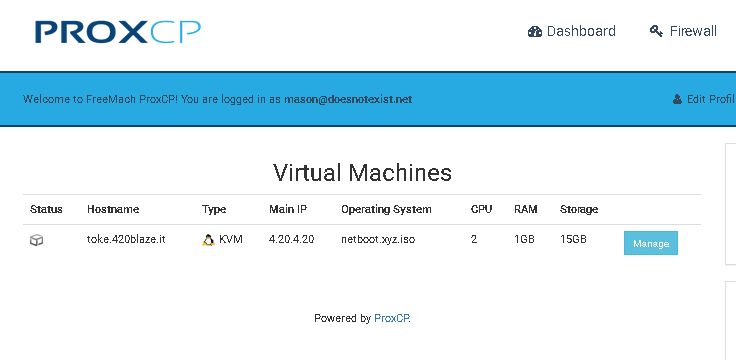 User VM Details Page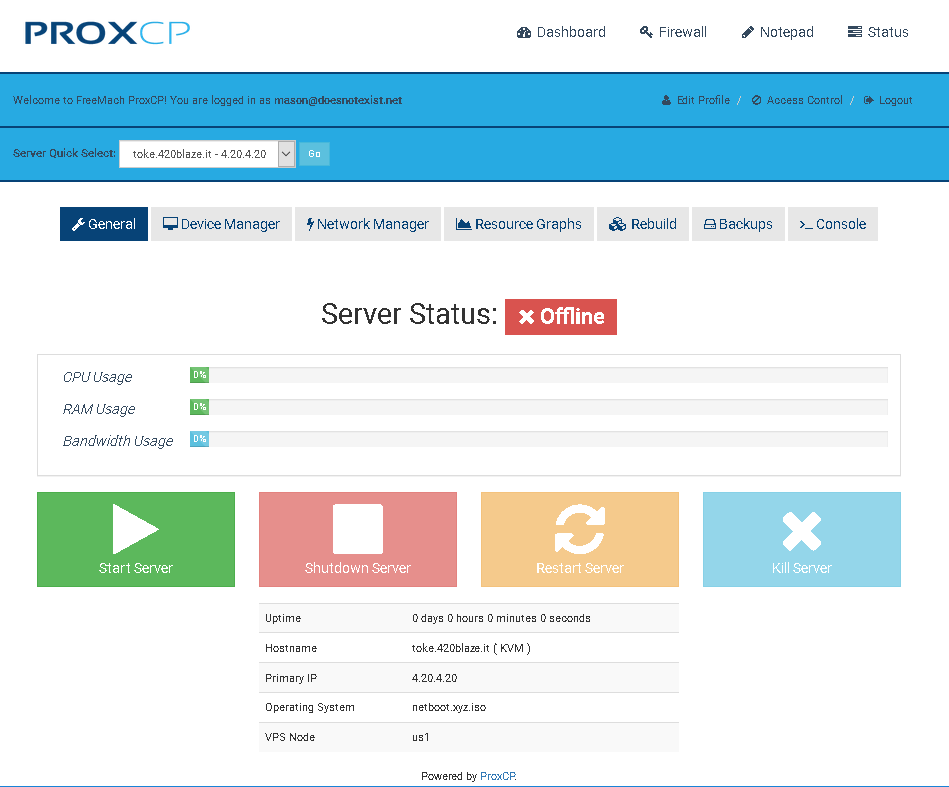 The user has several basic and advanced management options, such as:
Power options
Boot ordering
Changing attached ISO
Viewing resource usage graphs
Taking/restoring backups (if enabled on host)
Firewall configuration (both global polices and firewall rules)
Access to VNC console
Everything your average VPS customer could ever need. There are quite a few options that I didn't have enabled on the host that would lead to an even better end-user experience, such as, custom ISO uploads, VM backups, integration with WHMCS/Blesta, etc.
In the six months that I've been running ProxCP for the FreeMach project, tickets have been nearly eliminated thanks to the panel providing a place for the user to manage their VM instead of the Proxmox GUI, allowing OS reloads, VNC access, and management of their machine without me needing to get involved in any manner. Once a user and VM have been added and credentials sent, it's pretty much self-sufficient! (Something I was really hoping for as I provide this service using my spare time)
---
Admin Interface
The admin interface is quite simple to use and is likely akin to other popular control panels out there. In the admin interface, you have the ability to add/remove/edit nodes, view their status(es), create/remove/edit users, create/remove/edit VMs, and much more. Below is what the node stats page looks like while looking at a particular node. Simple and clean, just how I like it.
Admin Node Status Page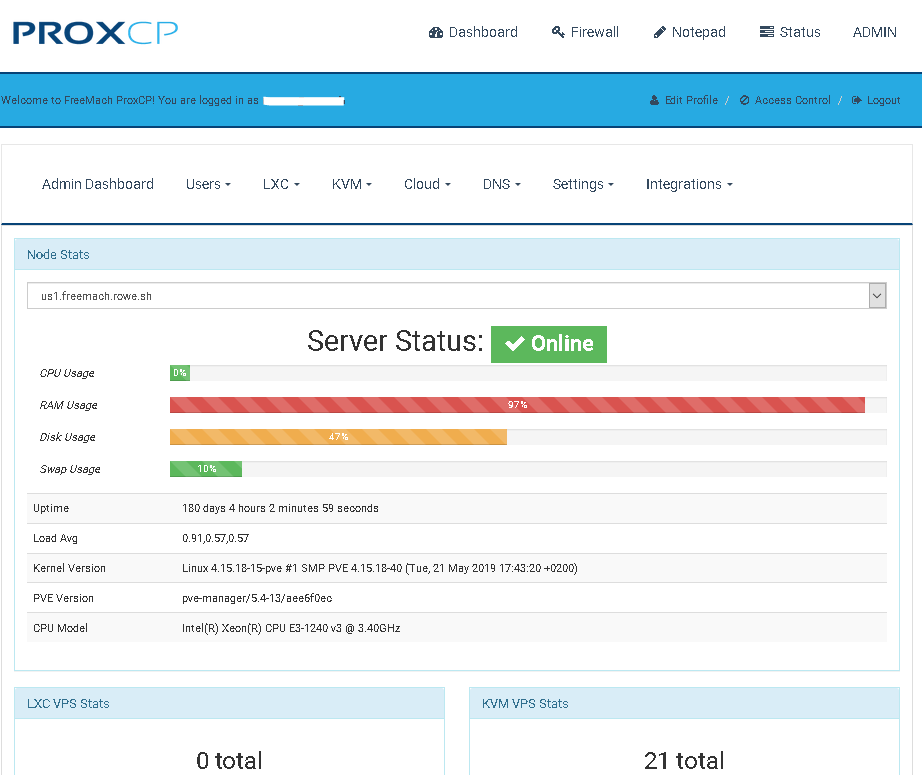 I create all my users and VMs manually, however, since there is built-in WHMCS/Blesta module, all of that can be automated, if configured. Even doing it manually is no struggle at all and can quickly be done in a couple minutes. Account/VM suspensions can be quickly done in here as well with a click of a button.
Admin Manage KVMs Page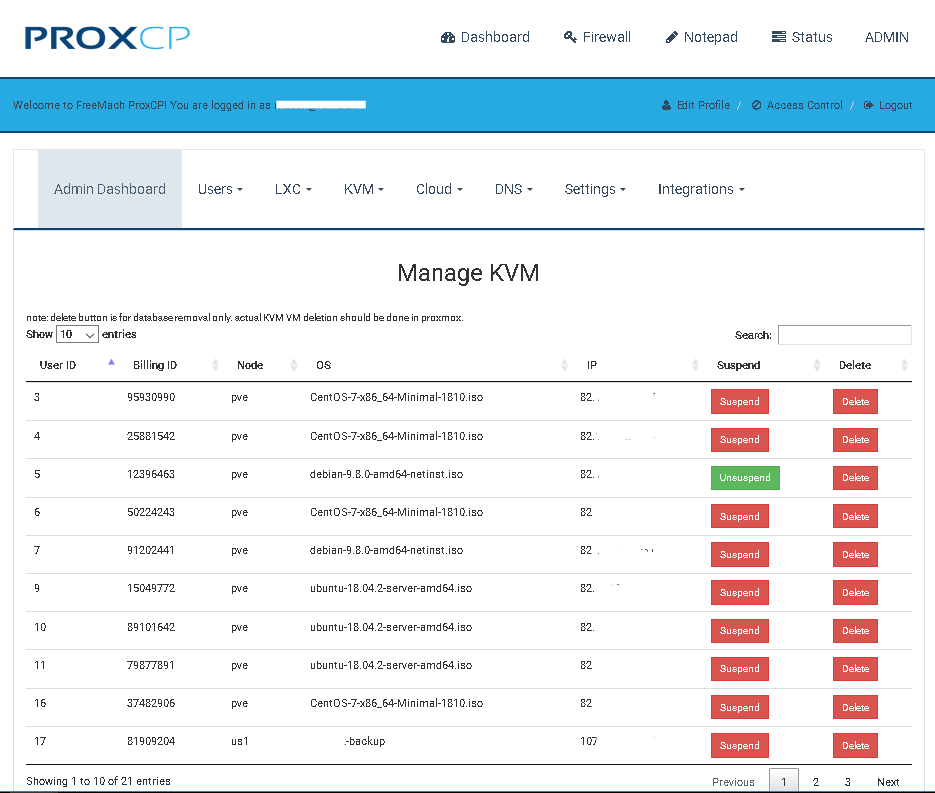 I wish I could employ and test out all of the features that ProxCP has to offer, which is quite expansive. Some things that I never had the opportunity to test out but seem like they'd be a great addition are:
Blesta integration (WHMCS billing module exists as well)
Private IPs
IP pool
DHCP server integration
Backups
Custom ISOs
Forward/Reverse DNS
LXC containers
… and more.
---
Bugs, Feature Requests, & Support
I only had one instance where I thought I had encountered a bug, but it turned out to be my wrongdoing that caused it in the end. I noticed that my SMTP details weren't being stored and thus weren't able to be used by the 'forgot password' functionality. Turns out, I forgot to run a db migration script during one of the upgrades. Working with Remi through a support ticket, we quickly honed in on the issue and he quickly whipped up a custom migration script (since I missed a couple upgrades) and had me in good working order in no time at all.
During the initial install, I had jotted down some notes on "nice to have" features. After I passed those along, I noticed almost all of these features were implemented in the next update – SOLID! The ProxCP team is very responsive to feedback, questions, and concerns, and will make a solid effort to put any recommended features into their product if it will benefit the larger userbase. One feature I'd really like to see implemented would be a migration script or tool which can pull existing Proxmox VMs into the panel, but I realize the complexities involved there to cover all the edge-cases (however, my method of using a backup of a VM disk as a template did the trick without issues).
---
Final Thoughts
In my opinion, ProxCP is a very simple and easy-to-use control panel for Proxmox-based VMs. I had a good amount of experience with Proxmox beforehand, but I don't think any would be required to get up and running with ProxCP in a short amount of time. I'd recommend it to anyone looking for a control panel with low costs, good support, and excellent features.
I'd like to personally thank the ProxCP team and Remi for providing a delicious control panel for myself and my clients to use or my free KVM effort. The FreeMach project might have very likely have stalled without ProxCP as, like I said, almost all tickets were gone once ProxCP was implemented and the project was able to nearly self-sustain itself.
I'm open to hearing and answering any questions regarding ProxCP and its use within the FreeMach project. I've had good experiences with it, so I'm hoping others are able to reap the benefits of ProxCP as well.