Intel Xeon E3-1220
32 GB RAM
500 GB HDD
10 TB Bandwidth
$25.99 Monthly
Customize the E3-1240: https://www.worldstream.nl/en/dedicated/special/info
Great provider!
Also check their branded deals…awesome quality HP, Fujitsu, Lenovo servers
https://www.worldstream.nl/en/dedicated/custom/info
Scroll down to Christmas deal

If you pay 12 months upfront, you get €4.20 /mth discount.
Thanks! @anon40039896
I wanted to provide more details about what I looking for.
I want to build a Cloud Lab on Proxmox.
Doesn't have to be a dedicated server, in theory it could be a VPS with nested virtualization support however performance is better on a dedicated server.
I am not stuck on a certain processor - I have very little needs for tons of horsepower.
I might even be able to make due with 16GB of RAM if the price was right. Of course more is better.
I don't need 100% uptime or a super fast network, but I also don't want it down all the time.
Worldstream is perfect for that, you could even have a whole bunch of cheaper dedis.
Reading your demands, I would personally go with PHP-Friends
Those are all rootservers, with dedicated cores.
Thanks! @anon40039896
How do I change the site to English?

Not ideal, I know…
Just start a chat / leave a message, support speaks english

Thanks! Do you know if they allow virtualization?
Both do.
In general, when you got dedicated cores, either on dedi or kvm, they are yours.
FUP is only with shared resources (still possible with traffic for instance)
Hmm… very good, but for mission critical stuff i'm not fully convinced yet.
Support is so so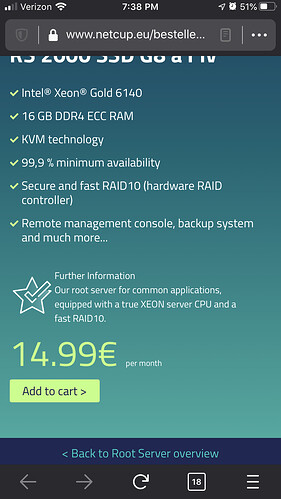 This is quite a good deal…
Don't know if they support nested virtualization but they are dedicated cores.
Wasn't it Netcup who charged for enabling nested virtualization?
Yes, if I'm not mistaken they charge per core.

PHP Friends includes VAT in the price, since I am in the USA I get them cheaper?
Yes, you do

Crazy! Sad that they have a 12 mouth commitment tho