Hello there my fellow gamers,
since there are a lot of people participating in the Video Games Giveaway by @Mason, I thought it might be worth sharing some tools/sites (which some of you probably already know) that allow you to get more games for your money

1. Allkeyshop: Now, you probably all know that you can get games cheaper from sites that are selling game keys. The usual suspects being G2A, Kinguin, Gamivo, Instant-Gaming, Keyforsteam, Humble Bundle… Allkeyshop allows you to search for a certain game and compares the prices on the most popular/common Keyselling websites making it a powerful tool. You can then opt for the cheapest option and use their discount code (their affiliate link) to get an extra 3-10% off some purchases. I used to check with them whenever I was going to purchase a game.
Recently, they launched their Chrome Browser extension which makes things even easier. The Browser extension will - when enabled - directly show you the cheapest price available to get a certain game when you are for example browsing the offical Steam or GOG store which is super convenient:
You can click on "See the x other offers" to compare the offers or opt for the cheapest "See the offer":
One thing I recommend doing is only manually allowing websites to work with Allkeyshop extension so there aren't any websites added in the background you don't approve to. You can do this in the extension settings.

2. IsThereAnyDeal: ITAD is another useful website which lists bundles&deals on their frontpage. If you are not so happy with using (inoffical) keysellers like G2A etc, this might be better for you. It basically (for the most part) uses "official" resellers, or atleast none of the likes of G2A, Kinguin…
The feature I love here is that yon can setup an alarm (e-mail) for when a game on your wishlist is offered at a certain price in any of the (reputable) stores you selected making it easy to grab it when it's hot. You can also view a games all-time low price and other useful stats. Like Allkeyshop it has a browser extension (ITAD Everywhere) to compare prices between store while browsing e.g. the steam store, however it doesn't include G2A etc in its' comparison but only the stores listed on their website. They also got "Augmented Steam" which kinda enhances your Steam experience.
ITAD Everywhere: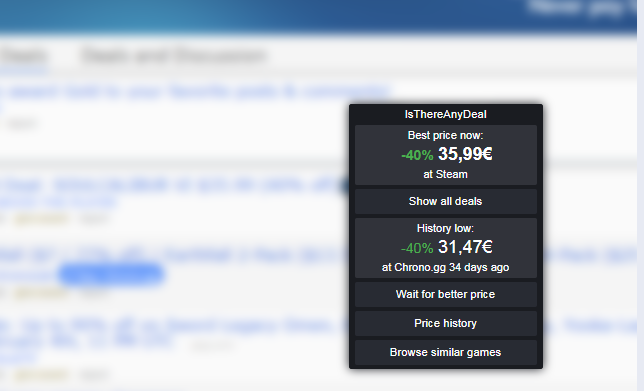 Augmented Steam:
3. HumbleBundle: Feel like giving to a good cause? Subscribe to a HumbleBundle sub (@Mason can probably tell you more about that

) and receive your monthly share of games while helping others. Or browse their store to pick up some cool games on sale