From https://scoutapp.com/blog/understanding-cpu-steal-time-when-should-you-be-worried:
Steal time is the percentage of time a virtual CPU waits for a real CPU while the hypervisor is servicing another virtual processor.
It's shown as st in top.
I have one VPS with dedicated CPU usage (BuyVM), and a few others with "fair share" CPU usage.
What I'm noticing is that the BuyVM and one other VPS with fair share CPU (BudgetNode storage KVM) have close to no "stolen" CPU time (less than 1%), whereas two of the others constantly have stolen CPU > 5% (one of them peaks around 20-30%)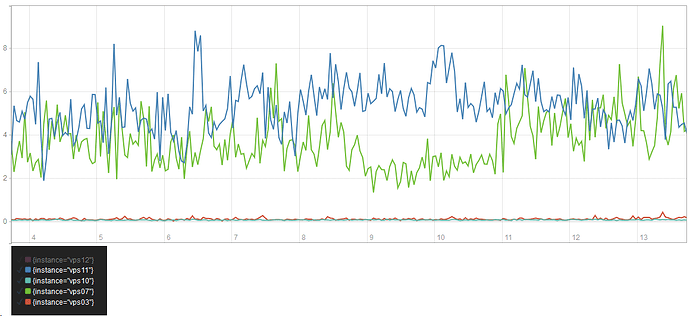 My CPU usage is quite low on all of these, so this just seems like noisy neighbors on the same node. In fact the BuyVM sees the highest load from me, and yet also has the best performance out of all of them in terms of both CPU and disk IO.
Understandably, stolen CPU time is expected with a VPS without dedicated CPU time ("fair share"), but how much stolen CPU time is expected? Is 5% normal? What about 20%? The only time I've ever submitted a support ticket about this was on BuyVM, and that's because the CPU is supposed to be dedicated there (so stolen CPU should be ~0%). Turns out that was an issue on the node, and Francisco fixed it