On February 8th, HostedTalk (formerly HostBalls) will be celebrating its TWO-YEAR ANNIVERSARY! It still amazes me that we've been a community for this long – we certainly have all of you to thank for making this place as awesome as it is! So, thank you!
To celebrate this grand occasion, I have reached out to many providers within the community to see if they would join us in a HostedTalk & Friends Sticker Pack contest. The response was better than I could have imagined, as we have many providers already on board (Clouvider, Porkbun, GestionDBI/Deepnet Solutions., Hetzner, HetrixToolls, Gullo's Hosting) and a few more in the works!
The contest to receive a sticker pack will run from 00:00 Feb. 3 to 23:59 Feb. 28 (UTC). Every day that you are active and make a post, you will receive an additional entry into the drawing (i.e. if you make a post every day within the contest time period, you will receive 26 entries into the drawing). The more days you are active and post, the more likely the chance will be that you will be one of the ten contest winners.
Each sticker pack will contain at least one of each of the stickers shown in the image below. More than one of a given sticker will be included, if quantity permits. In addition to stickers, Hetzner has sent in laptop webcam covers. I will be printing up a special batch of HostedTalk stickers to celebrate our rebranding and of course, OG HostBalls stickers will be included (who knows… maybe they'll be worth something one day!). I'll post pics of any additional providers' stickers as they come in.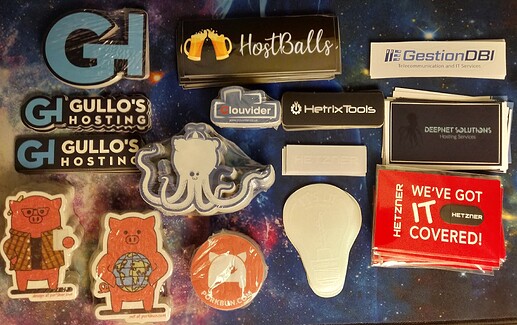 Contest winners will also receive a special discount code redeemable at Porkbun.com for a free .design tld registration!
Contest Rules:
Every HostedTalk user that posts anywhere on the forum within the time period is automatically entered into the contest
For each day you make a post on HT between 03 FEB 2020 to 28 FEB 2020, you will gain one entry into the drawing
The drawing to select the 10 winners will take place on 29 FEB 2020
A winner may delegate the sticker pack to another user if they do not wish to accept, or alternatively may opt to have a winner redrawn
A user may only win one sticker pack