Has anyone here tried out any (hopefully) free game panels? In the past I've always just used Linux Game Server Manager for Steam games as that's always worked flawlessly. I've always been on the lookout for a game panel that'll let me be able to delegate access to others to use (without needing to give them ssh or ftp access to my main box). Finally decided to kick myself in the ass and do something now that my Master's class wrapped up last week. Now for the run down…
The game servers I typically host are:
Counter Strike: Global Offensive
Day of Defeat: Source
Mound and Blade: Warband (requires wine if running on Linux)
Holdfast: Nations at War (also requires wine)
My search first led me to XenoPanel. Seemed pretty neat and has a lot of cool features. Developers are really active on their Discord. I tried to install this quite a few times and ultimately gave up as their installation scripts were just failing miserably. Never did reach out via Discord for help, as the installation process left a bad taste in my mouth.
Next I stumbled on Open Game Panel. What first struck me was how outdated the website looked. Looks like this project started back in 2011ish. I guess that gives it some credibility as it hasn't become abandonware at this point after so long. I also liked the fact that they had both Linux and Windows daemons available for running servers. Ultimately decided not to give this one a shot as the next one took the cake.
Thus, after digging some more I remembered a panel I had tried about a year or two ago – Pterodactyl. I think I tried it out, had some issues deplying a server, and subsequently gave up. I decided to give it a shot. First impressions – I was completely blown away by their docs section. Fucking hell, these guys probably spent days on end amassing this. Everything was very simple to follow, and just works. I installed the web panel on a VPS I was idling (win!) in a short period of time.
Today I installed the daemon on my SYS game server I picked up during their 30% off sale. Also was a piece of fucking cake. Then the time came to test the sucker out. Allocated an IP and port for a CS:GO server. Launched it. Watched htop on my SYS node. Saw the sweet spikes as the server was installed (status was even updated real time in the panel [installing, running, stopped, etc.]). And just like that the server was up and running. It was beautiful. Simple. Elegant. Absolutely mesmerizing. Alright I stop now

Here's some sweet screencaps -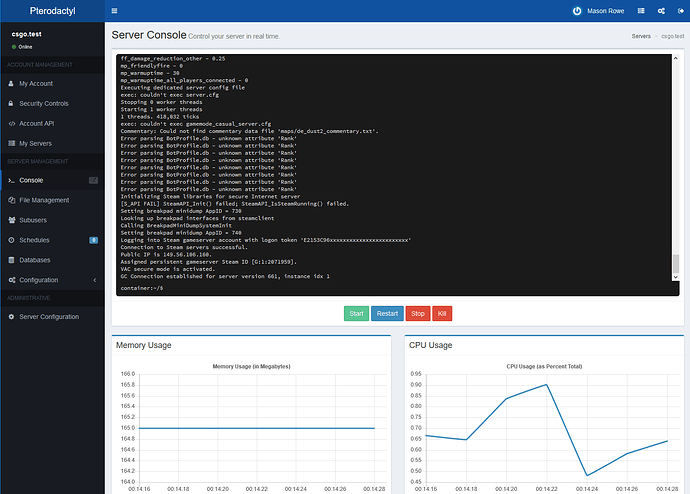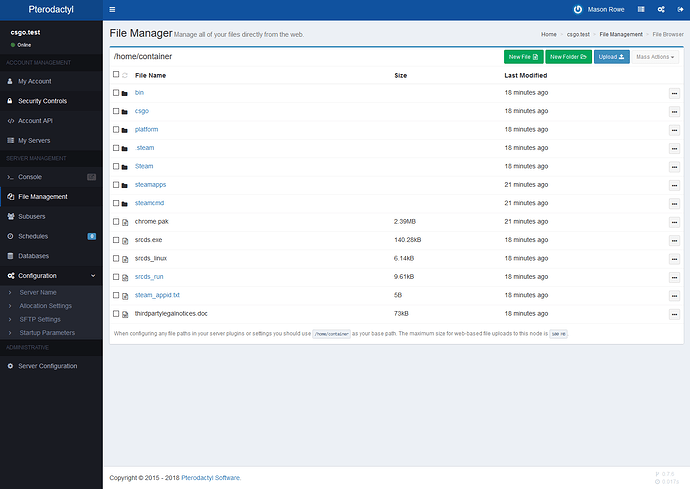 My next steps are figuring out how to add some other games to the mix. The part that excites me the most about Pterodactyl is that the servers are deployed in Docker containers (I'm a huge Docker fanboy in case you didn't already know

). Next on the agenda is wrapping up a M&B Warband server in a container (with all the wine dependencies and all that jazz) and adding it as a custom game. They seem to have a very active community on their discord, so I'll start there first to make sure no one has already done it. If not, I'll share it with them once I'm done. Shouldn't be too hard since I've installed servers requiring wine to run on Linux boxes before.
Sorry to ramble on. Hopefully some others will find this semi-interesting. I have a nerdgasm when two of my hobbies co-mingle (game servers + Docker) so don't mind me. If anyone has any interest in giving it a go and runs into any issues, feel free to give me a shout