Any of you jumping on this train? It's pretty fascinating to watch.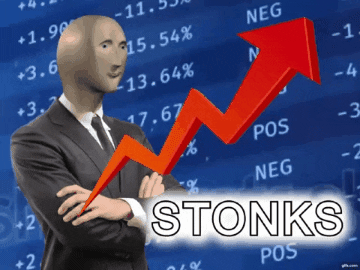 Honestly feels like gambling. So no. Would be interesting to see how It ends.
If you haven't gotten in at this point yet, don't do it. Dogecoin is a meme coin and there's almost an endless supply and lots of dogecoins are being mined ALL THE TIME.
Watching people bail out at all the noteworthy points, but still going strong. The press around it has generated a lot of interest, mostly thanks to Elon. For the dynamics of this particular coin, the last 48 hours have been nothing short of popcorn worthy.
Every time I think hype is over and it's going down now, it reaches new high. I might as well bite!
As long as you play with money you can lose, no harm. I'm playing with cash that wasn't really worth transferring out of robinhood.
There's so much hype that I might bite on it too

Indeed, I loaded some cash in my wallet a few days ago that I've already considered as expense. Beside that I've a 10% of my investment allocated to crypto but haven't fired any shot. Everything's so high it might come trumbling down anytime.
GME all the way



HOLD!

I nearly went for it, but as usual hesitated and missed the boat.
I think I'm going to do what I did last time I went to Vegas, set aside a few quid from this year's bonus I can afford to lose and have a proper crack at the crypto market. It will end it tears.
Hookers and blow my friend, hookers and blow.
Only if you remember it.
I sold some I had mined back in 2014. It was sub-$0.002 for a looong time, so even now that it is "crashing" it's still amazingly high. It's a deflationary coin (no mining limit) so not really a good long-term investment. That said, there will surely be more pumps and dumps in the future. Wait for it to really hit bottom then scoop it up!
If you accepted Dogecoin, I'd pay my next bill with it!