What da heck…
@Liam what's up with this?
…and who's Shock Hosting?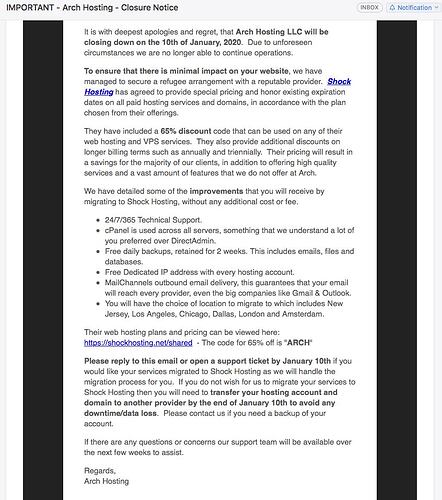 Interesting
Liam hasn't been with the company since almost a year now. He left the hosting biz to do other tech-related things. I guess they couldn't keep things afloat without him, unfortunately.
This really sucks for all the StackSocial people that bought their lilfetime hosting plan. But I guess it just goes to show that hosting companies can come and go in the blink of an eye, so you have to be wary when it comes to "lifetime deals".
Unlike, ya know, having a ginger kid- which never seems to go away.
Sadly, some regrets don't seem to go away after a few years.
I'm aware, but thought he would have some insight.
I think this is true to ALL lifetimes deals, not only hosting.
I have heard Shock Hostings name sometimes on WHT. No idea whether they are good, but they are regularly promoting there.
True to all lifetime deals
Hold my beer

That being said the only 100% legit lifetime deal that you can go down without regrets on investing in yourself. That, however, also comes without any promises.
For a moment there I thought you were gonna say "marriage"

I think that's @Amitz part

Something in the air these days. Anyone else shutting down?
Hmm, yeah. He might have some insider info for us to shed more light on the situation. Unfortunately I haven't seen him on any hosting forums for many months.
Looking for acquisitions? 'Cuz it's been awhile since I've gone down. @Dedispec seems to keep my angry bits available and ready for most of the day.
The ploth tickens

Theres a claim that the refugee offer Arch negotiated is really provided by a company that owns Arch.


This is inevitable and obviously gonna happen when you see someone/an individual (in this case @Liam) offer sketchy "lifetime" deals and then sell up, it's only a matter of time until the new owners (a proper company) try and wiggle out of the "lifetime" customers.
Shock Hosting is the premium brand and they're hoping they can get even 10% of customers to pay the premium, if so it's a success, while at the same time likely avoiding/wiggling out of "lifetime" deals.
Free hosting is more ethical than one off lifetime deals

Anyone who paid life time, feel free to get a free plan for us. No cost to try and the best thing is you won't be out of your money

Now that explains why their client areas are Identical!! Damn I just got duped away from a lifetime plan. lol now I am paying the same company 10 quid per quarter, as long as they don't vanish and offer me more expensive hosting somewhere else. haha